03/05/2019 - Help please
In his book 'As We Were (Christow Then and Now)' Stafford Clark quotes from 'Methodism in the Exeter Circuit'. He doesn't give a reference and I am unable to find a mention in the press or at The Devon Heritage Centre. Does anyone have knowledge of this book/article. If so I would love to have a look. Thank you, Graham
03/11/2018 - History of Christow
Research paper added. Also Listed buildings in Christow. Written and collated by Graham Thompson. They can both be found here
23/10/2018 - House History
I am increasingly receiving requests to carry out local research usually into house history. This takes me several hours. I ask for a donation to the history group. Most house research I've done in the past has taken me about 8 hours not including travel time. The advantage for us is that we get to store the information in our archive. We would not necessarily do this research unless asked because there are so many other things to look at. The committee are looking at a scale of charges for this sort of activity and will report back soon. If anyone else would like to assist in my research please let me know. I can offer advice as you proceed. (GT)
20/10/2018 - Where is this house?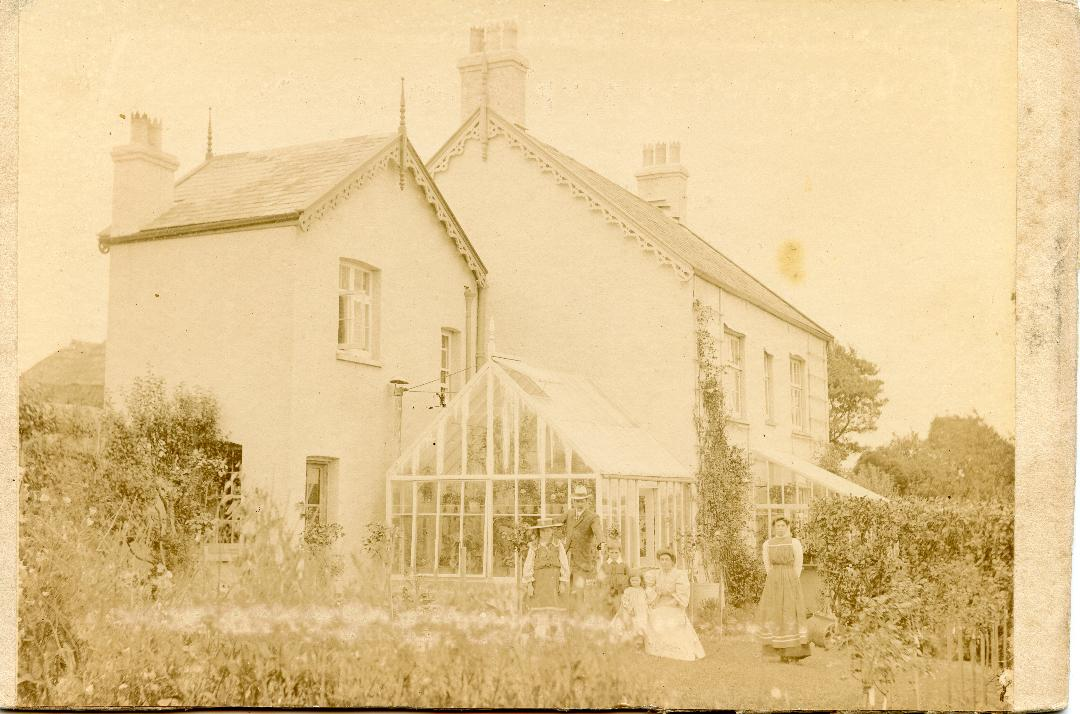 Thanks to everyone who helped with trying to discover where the house was. Sam Archer identified it as Woodacre at the top of Wood Lane and I have confirmed this after a visit there. Alden Rodwell's mother, an expert in costume history, has confirmed that the costumes worn by the family (on the left) dates it as around 1905 whilst the servant on the right is wearing hand-me-downs from the 1870s. The house is shown in the 1840 Tithe apportionments (when tithes were converted to a cash payment) as the Cornish Arms, a short lived public house, no doubt run for ex-patriot Cornish miners. The house was occupied by the Binnenden family from South Africa. I believe there used to be a place called Binnenden or similar in Bridford. Is it still there? This is the sort of house information we would like to collect for our Museum archive. I now have a portable scanner so can scan documents without their leaving your house so if anyone has an interesting photo or house deed then I would love to have a look at it. (GT)
18/10/2018 - World War I Photographs
A reporter from the Moorlander has approached me wanting photos of 1st World War soldiers that are your ancestors/relatives for a forthcoming edition. If you have one can you send a copy to me so I can forward it to him? If you can send a photo of you holding the photo that would make his day!
Update: Hennock village are holding a WW1 history evening on Thursday, 25th October at 7:30 in Hennock Village Hall . Anyone welcome to come to the meeting.
11/09/2018 - Museum and Archive Update
Just before the meeting of the History Group Jeston Brightmore-Armour handed over his late mother's collection of Teign Valley Players artwork and some historical notes on Christow. Our grateful thanks go to the family. The artwork is stunning. If any one has archive material they would like to donate or loan please let me know. The museum project is now proceeding well and we hope to arrange details of a lease by the end of the year.
03/09/2018 - The Bridford Album
Graham has received an enquiry from an old Bridfordian as to whether he can track down a copy of 'The Bridford Album'. This was published at the time of the Millennium celebrations by the Bridford Photo Group when the chair was Jane Baker. Does it still exist? My correspondent tells me there was a photo of his uncle in it & he would like a copy. Does anyone know where he can get one?